Who are your best clients?
Who do you enjoy working with the most?
What if I told you that you can start replicating those clients with one easy email?
These are exactly the questions my guest this week, Brian Ouellette, is here to answer. Brian is a former financial advisor (while a FA he was the daily TV market commentator for FOX News This Morning in Seattle) and Founder of AskMyAdvisor.co, a Q&A referral app you can have up and running in 15 minutes… and generating referrals from day one.
Don't wait for referrals to happen by chance. Move beyond passive marketing and be proactive in attracting the right new clients. Invest your time listening to this episode and you will come away knowing:
How to retain your clientele by creating exclusivity
How to identify your clients' #1 problem and top questions
The simple strategy to jump-start your referral business
The "secret weapon" you can add to your emails TODAY
And more…
This is not general marketing; Brian's strategies are laser focused on leveraging the connections of just your top clients to generate valuable business referrals.
If you are a trusted advisor for your clients, you NEED to listen in now. Brian's simple strategies will IMMEDIATELY help you expand your connections and reach more of the clients you want to work with. Don't miss this opportunity.
Listen here or watch on YouTube.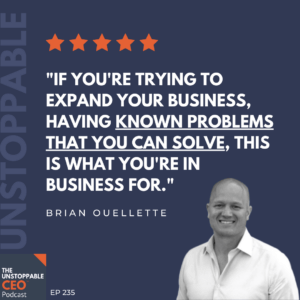 Mentioned in this episode: