If you're a parent and entrepreneur, this episode is for you.
Homeschooling has skyrocketed in the last few years…
If your kids are struggling or if you're just not happy with the school system, it might be the answer you're looking for…
And you don't have to sideline your career to do it.
You can grow your business, and give your kids a personalized, hands-on education.
My guest Mary Resenbeck developed The Resenbeck Maverick Learning Method after watching her dyslexic son and daughter struggle in a traditional school environment.
Now, she is a consultant for homeschooling families (especially entrepreneur families) and develops individualized learning plans that help kids realize their full potential—while making the process easy for working parents.
In this episode, Mary will share how you can give your kids the education they deserve without time and money holding you back.
Listen | Watch on YouTube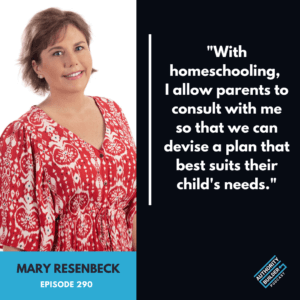 Mentioned in this episode: