AI can save your business millions of hours.
It can take over the mundane tasks you hate doing…
Freeing you to do exciting, creative work…
And you might not realize that you've already been using it.
AI isn't just for people with a computer science degree…
In this episode, Evan Ryan, founder of Teammate AI, will show you some simple AI programs you can implement today. And save 4+ hours this week.
Ryan has helped hundreds of business owners scale using AI automation—and he's here to tell you how to leverage AI so you can spend more time growing your business.
Listen | Watch on YouTube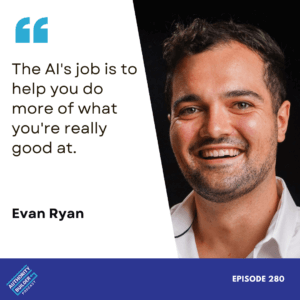 Mentioned in this episode: