It takes determination to scale a business…
This episode's guest, John Vagueiro, knows this too well—and he's here to share his inspiring story.
John started his business at 17 to help his struggling family. After 3 months of going door to door selling digital marketing services, he got his first "yes."
Now, his business, Adapting Social, serves clients in over 20 countries including Bentley, Ferrari, Columbia University, Compass and RE/MAX.
In this episode, John will cover what he's learned, including:
How to overcome limiting beliefs
The sacrifices of scaling
Why leaders need to stop people-pleasing
The importance of cutting expenses
And more
Listen | Watch on YouTube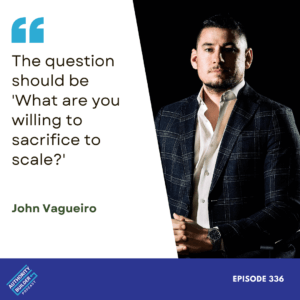 Mentioned in this episode: